Grace Evangelical Lutheran Church
Serving Glen Avon Since 1957
8877 Mission Blvd, Riverside, CA 92509
(951) 685-4672
Mailing Address:
9085 Mission Blvd, Suite A1 PMB 49, Riverside, CA 92509

Pastor Ken Puccio was born and raised in Queens, NY, by his Sicilian father, Al, and German mother, Irene.  Irene taught Sunday school to the youngest congregation members of Bethany Lutheran Church in Queens, including his siblings Russ & Debra. Pastor Ken's love of the Lutheran faith began during those classes.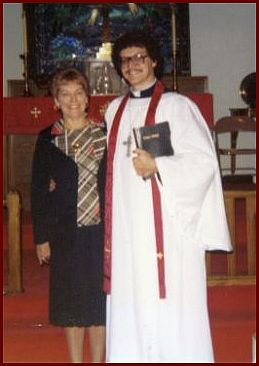 Pastor Ken with his mom, Irene, at his ordination.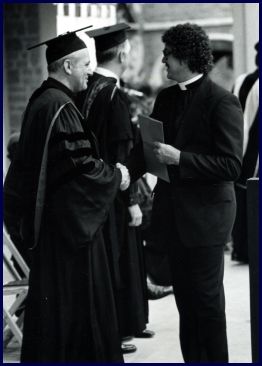 Seminary graduation at Christ Seminary, Seminex in St. Louis.
Pastor Ken enrolled at Concordia College in Bronxville, NY in pursuit of his teaching credential, so he could share his love of words as a high school English teacher.  Along the way, he realized he was being called to share his love of the Gospel from the pulpit, and received his Masters of Divinity from Christ Seminary, Seminex in St. Louis, Missouri. Pastor Ken was ordained as a pastor by the Lutheran Church in America in 1977, and has served congregations in Minnesota, Michigan, and California.
Pastor Ken was again called to share his love of the Gospel, along with his love for his country, and accepted a commission from the United States Navy as a Chaplain in 1985. Chaplain Puccio has proudly served the men and women of the US Navy and US Marine Corps aboard ship and on base, with two tours of duties in the Middle East, including a tour of duty in Kuwait during Operation Desert Storm. His other tours of duty included: Marine Corps Air Station Tustin, USS Leahy (CG16), Marine Corps Base Camp Pendleton, Naval Reserve Center San Diego, and Naval Operations Support Center Moreno Valley.
Chaplain Puccio, Commander, USN.
A natural teacher, Pastor Ken received a Masters of Education, with specialization in Special Education, and has been teaching English and Special Education at Elsinore High School since 2003. He's a regular at Tiger sporting events and an avid supporter of the drama program. No arm twisting was required to accept the role of Papa in Elsinore High's 2009 & 2013 productions of Beauty and the Beast.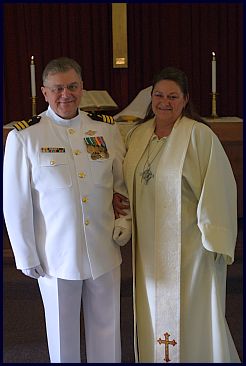 Pastor Ken and Grace Lutheran secretary, Lori Cassen-Snyder. "Pastor" Lori leads the congregation in "turbo" church when Pastor Ken is out of town .
Pastor Puccio accepted the call from Grace Evangelical Lutheran Church in November of 1998 and has been inspiring, enlightening, educating, entertaining, and ministering to the congregation every Sunday morning.  Pastor Ken and his beloved bride, Madeline, were married at Grace Lutheran in 2010, much to the delight of the entire congregation, all of whom were in attendance.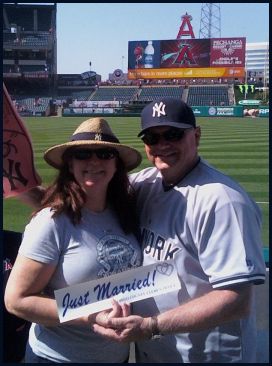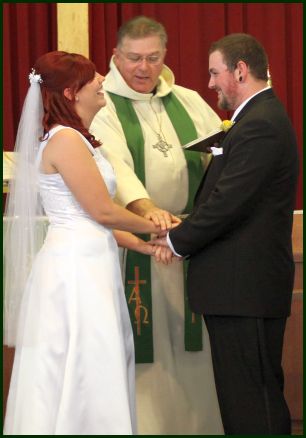 Pastor Ken is an avid sports fan, but his passion is baseball. He's a lifelong New York Yankees fan and you'll often find him wearing a Yankees cap while playing his guitar during the Sunday worship service.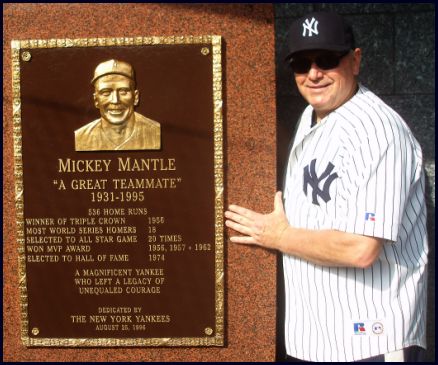 Pastor Ken performing a wedding ceremony at Grace Lutheran.
Pastor Ken played the role of Maurice in Elsinore High's 2009 & 2013 productions of Beauty and the Beast.
Pastor Ken and his new bride, Madeline, on their wedding day.
Pastor Ken & Madeline began their honeymoon at a Yankees vs. Angels game.
Pastor Ken in Monument Park at new Yankee stadium.
Madeline and Pastor Ken currently live in Sun City and enjoy spending as much time as possible with their children Anthony, Lindsay, Sara, Ryan, Alexis, Alex, and Katie. They've also been blessed with five gorgeous granddaughters: Mackenzie, Shelby, Phoenix, Ivy, and Charlie.