Grace Evangelical Lutheran Church
Serving Glen Avon Since 1957


8877 Mission Blvd, Riverside, CA 92509
(951) 685-4672
Mailing Address:
9036 Mission Blvd, #64, Riverside, CA 92509
We celebrate the Sacrament of Holy Communion on the 1st and 3rd Sunday of each month.  We invite EVERYONE to come to the altar.  All baptized Christians, believing that Jesus is truly present in this meal of life, can indicate their desire for Holy Communion by placing hands palms up, one on top of the other.  Those coming forward for a blessing are asked to fold their hands.
Join us for our Sunday morning
Worship service at 9 a.m. 
Stay and enjoy fellowship with coffee and treats 
immediately after the Worship service.
 For more info about any event, please call Madeline @ 619-992-7363.

Wednesday Lenten
Soup Suppers
The season of Lent and our time of preparation for Easter has begun. 
Pastor Ken will be participating with Pastor Linda Brown of Eden and Pastor Kent Tuihino of Trinity Lutheran church in a preaching rotation for the mid-week Lenten services.
This year's theme is "Thy Will Be Done." Our Wednesday schedule includes a light soup supper, beginning at 6:00 P.M., followed by a brief devotional worship experience. The devotionals will be presented by the pastors in the form of first-person narratives, featuring various prominent Biblical characters.
Please join us!
    Wednesday, February 28th
    Wednesday, March 7th
    Wednesday, March 14th
    Wednesday, March 21st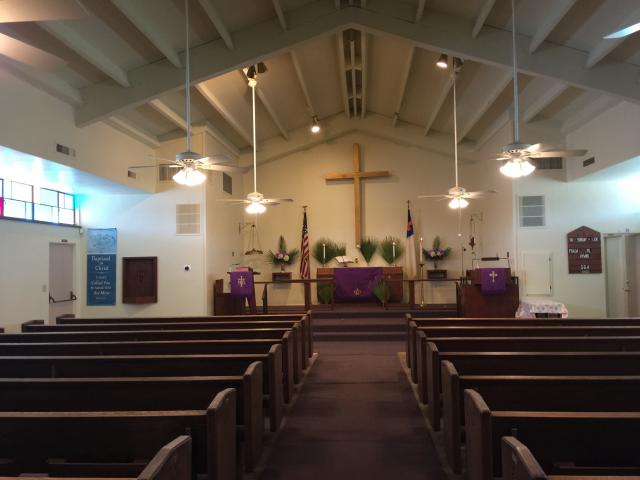 Lent & Easter Events
Palm Sunday w/ Brunch
& Egg Hunt 3/25 - 9am
Maundy Thursday 3/29 - 7pm
Good Friday 3/30 - 7pm
Easter Sunday 4/01 - 9am