Grace Evangelical Lutheran Church
Serving Glen Avon Since 1957


8877 Mission Blvd, Riverside, CA 92509
(951) 685-4672
Mailing Address:
9036 Mission Blvd, #64, Riverside, CA 92509
We celebrate the Sacrament of Holy Communion on the 1st and 3rd Sunday of each month.
We invite EVERYONE to come to the altar.
All baptized Christians, believing that Jesus is truly present in this meal of life, can indicate their
desire for Holy Communion by placing hands palms up, one on top of the other.  Those coming forward for a blessing are asked to fold their hands.
All Grace Lutheran Worship Services ONLINE ONLY
until further notice
For more info about any event, please call Madeline @ 619-992-7363.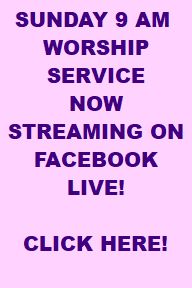 New! Virtual Wednesday Night Bible Study @ 7:00 p.m. using Zoom.  For more info: madeline@gracelutheranglenavon.com.
Curbside Communion now available every Sunday morning!
Grace Lutheran Parking Lot 10:30 a.m. - 11:30 a.m.